Hey everyone! My name is Bri and I'm excited to be a guest blogger today! Over on my blog –brimckenzie.com, I talk about how I'm learning to live everyday fearlessly and inspire you to do the same. So when Greg asked me to write for him I really had to think about how I could mesh what I do with what he does…
aaaand I was drawing a blank.
What Greg does here is very centered around his life, speaking, podcasting, relationship's, etc and I'm still in a state of hmmm… discovery with mine. Thinking back, as soon as I declared what major I wanted to pursue at orientation for my freshman year at UNCG I began my career journey.
No, but really.
I can remember what that day was like…
I had already spent the last two days meeting more people my age than I had ever seen in one place. I was sleep deprived from the sounds of excited high school graduates that were "acting like no one ever took them no where" as I'm sure our mamas would say and also from the sound of my SOAR roommate cup-caking with her boyfriend on the phone. (Months later I would meet her again by chance when she knocked on my dorm and many others, begging for entry in a frantic panic, looking for shelter as she was in danger of being caught cheating on said boyfriend when he stopped by for a surprise visit. She didn't even live in my high rise. Oh, college.)
There was a jam-packed schedule and not to mention it was hotter than two rats screwin' in a wool sock.
I mean I was walking around campus like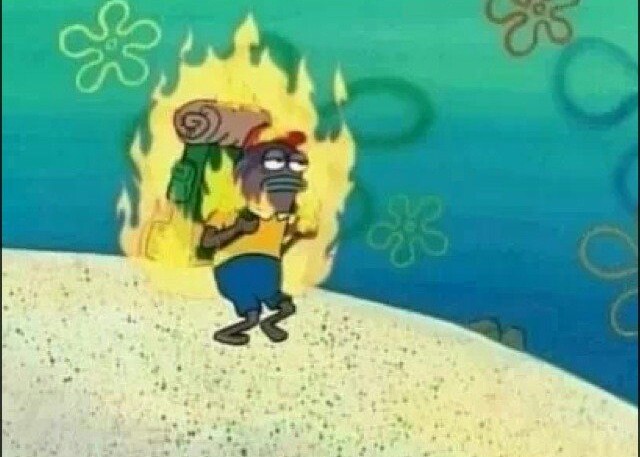 (yet another Spongebob reference… Might not be the last *shrugs*)
…kind of hot and after all this new craziness and the delirium from the sun keeping it waaaay over the 100 emoji, you want me rush and pick my career?
I was trying to follow this schedule laid out for me, all the while trying not to get lost in a place I've never been before.
and THAT very feeling as a freshman is how I still feel about becoming a young professional.
Do you remember That Guy on campus that always wore suits and carried a briefcase to everywhere and to everything? While we diminished our refunds on the latest from Forever 21 and PacSun, this FBLA-lookin'-ah dude was always dressed like he just left meeting. What was That Guy doing that was so important?
The older I'm getting, the more that all of my peers are slowly turning into That Guy. No, I don't mean that they all have traded in Charlotte Russe for J-Crew, but what I mean is that everyone is now so business minded. It was as though the semester before graduation tweets turned from
"bruh on everything f- my job, who got the henny I'm tryna die tonight #callinoutsick #chickenwingsandfries"
to
"Time to get up & get it! Another beautiful day that the Lord has made. Thankful for opportunities & drive to fulfill them #blessed #glorytoGod"
I'm looking at them like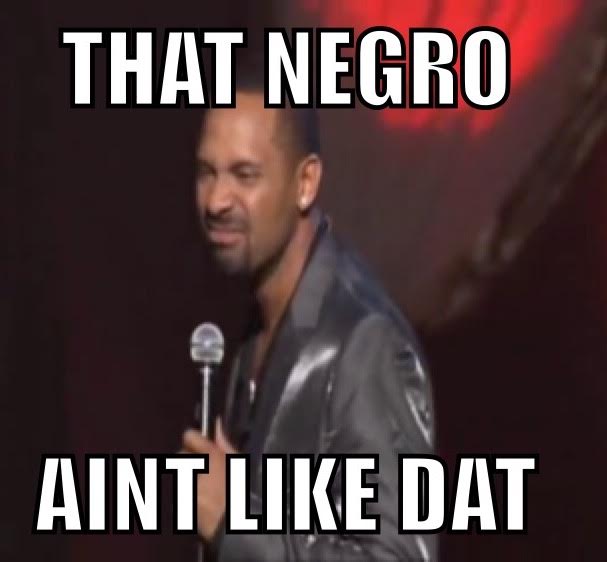 ​
(reference: the first 30 seconds of "Runaway" by J.Cole)
Profile pictures turned from selfies to professional head shots. Facebook posts featured accomplishments and recaps from retreats and conferences from their fancy jobs.
Meanwhile, I'm watching everyone get all Aldo and I'm still feeling really Shoe Carnival. I felt like everyone was doing what I wasn't doing and I was getting left behind. I had to stop school and work full-time while some of my former classmates were on to post-grad 9-5 greatness and living a life they loved. My Linked-In isn't poppin' while my peers are connected to 500+ and even though I did just say that the clothes don't make the wo(man), I totally lacked in comprehension of what business-casual was and how to achieve this foreign aesthetic outside the white button down and flared leg black dress pant. (Saying "pant" singularly sounds more fashion. *puts pinky out*)
What everyone was doing looked so much more important than what I was doing.
I didn't feel like I looked so good on paper. I felt like the same Freshman Girl from orientation.
Trying to follow the path that's been scheduled before me on how I should be successful, all the while being completely lost in this place in my life that I've never been before.
We live in an Instagram world these days. Our parents used to have to wait until their class reunions to feel insufficient in comparison to their peers; all we have to do is open the app (which we probably do starting every morning as soon as we wake up). It's like a ritual: turn off the alarm, wash your face, scroll and negatively contrast yourself to others whilst on the toilet. I'm not only worried about keeping up with the Jones' but now I gotta worry about Juno, Ludwig, Valencia and Sierra. Just when social media just seemed shallow to me, it was like I looked over and everyone else was frolicking way in the deep end as I was staying above water with my 40 likes and my floaties.
---
When I finally learned to DIG DEEP:
One night I came home from work and found a book lying on my bed. When I read the title I knew this was only the doing of my mom. The title read: The Gifts of Imperfection: Let Go of Who You Think You're Supposed to Be and Embrace Who You Are. The little book doesn't have much on the cover; just an illustration of interlocked hands in the shape of a heart and a dove on a blue, cloudy sky background. Even that is indicative to the quality of lessons that are inscribed inside this short read. It isn't always about the outside appearances. So I took the time to read it, but what I didn't know what that I started my practice in digging deep. When I flipped to the preface, the first words that Brené Brown wrote were
Owning our story and loving ourselves through that process is the bravest thing that we will ever do.
Wow. This entire time I've been feeling the shame of feeling like I'm not where I'm supposed to be and the fear of not owning what it is that I am and where I am. Shame and fear are two themes that Brown explores in the book. Brown afterwards wrote 10 guiding posts in instructing you to live a wholehearted life. At the end of each post she calls you to DIG DEEP in three steps: Get Deliberate, Get Inspired, and Get Going.
Say it witcha chest
So here's how I got deliberate. I started owning my story. I had to start with "I AM". The "sister, friend, daughter" thing is who I am in relation to OTHERS. No, I really had to dig deep and pull out who I was. I just started telling people a loud that I am a writer, even though deep down I knew I was a writer in the second grade when my poem about friends won a county wide contest and earned me my first publication. I can say that was right before I started letting other people write my story.
2. Start a romance with your self-esteem

I get inspired by the fact that I can get inspired now. When you are so stuck in your own misery of not-good-enough-ness, you won't find the inspiration in the story of others because you'll always be looking for the excuse on why it can happen for them and not you. I can listen to successful people and their journeys to success- like the ones on The Minority Trailblazer Podcast and not think "Oh well, they can do this because they all have degrees". Stop being your own worst critic. Show yourself compassion and be kind to yourself. Your story is different for a reason and there have been plenty of people that did great things on the trail less traveled by. You have to groom your mind on greatness. I get inspired from the positive affirmations and quotes and visuals I've plastered on my walls.
3. Try, Try, Try
After all of that I could finally get going. I know with all this new change and work I was doing on the inside, I could change the outside to match. I decided that I was going to "fake it til I make it" but in a way that was true to my "I AM". Since I wasn't in school at the moment and didn't have any external opportunities at my grasp, I know I had to make my own. I made the effort to reach out and connect with a lady I sold a washer to at one of my jobs and landed myself an internship with the District Attorney's Office. With that, I knew I need to step up my business casual swag and researched looks on pinterest and style blogs on how to dress for the job that I want some day. I'm not at J-Crew money, honey, but I'm telling you that the thrift store is always stocked with great blazers. I noticed that many "professionals" wear a watch so I found a big faced faux gold link watch at JC Penny for $5 after two sales. The watch does so much for that professional look. Major key.
What I'm still working on everyday is elevating my internet presence. I got going and went ahead and made my Linked-In profile, titling myself a writer/blogger and content creator. I step that lead me to connect with Greg and in-turn connect with you amazing people. #blessed #GloryToGod
So here's our take away:
Become present in your journey. What life does guarantee is that there are no guarantees, you need to start declaring your "I AM" today. Everyone can put in their input about what it is that they think you should be doing but they aren't up with you when you're sobbing/gasping for air in the midst of another panic attack in the middle of the night (yeah, I was there).
Love on yourself. Love your now. Enjoy your journey.- Bri McKenzie – Click to Tweet
 Question: What is the #1 Thing you love about yourself?
{Answer Below in the comments by clicking here.}