The Minority Trailblazer is a weekly podcast dedicated to minorities who are blazing a trail in business & in life. My goal is to share their stories in hopes to inspire, educate, and ultimately encourage others to live with purpose and passion.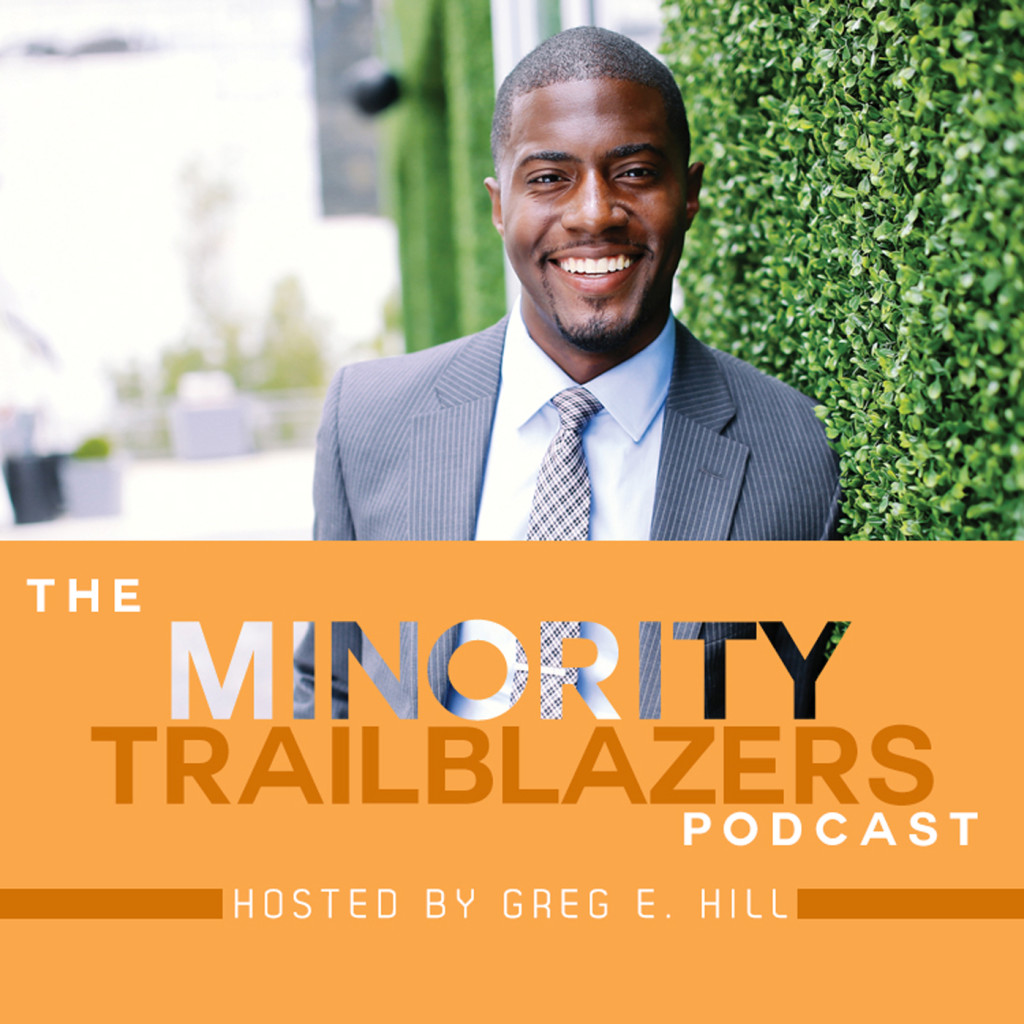 I will post this podcast on every Thursday. If you subscribe, you will automatically get every episode for free.
3 Easy Ways to Listen to Podcasts
 Computer: You can listen to podcasts using iTunes. Go to the iTunes store. On the right side of the screen look for the word Music, click the link to reveal the drop down menu and select Podcasts. That action will take you to iTunes Store podcast library.

 iPhone: It's very likely you already have the Podcast app (it is installed already on newer phones or available from the App Store for free). 

Search "The Minority Trailblazer" then Subscribe & Download.

 Android (e.g. Samsung Galaxy S5): Download Podcast Addict from Google Play (the app store). Search "The Minority Trailblazer" then download.
From any of these, you can browse, subscribe, and download podcasts.
---
Please Leave a Review
I would appreciate if you have listened and enjoyed this podcast to leave a review via itunes or follow us on soundcloud.
Tutorial Below
---
Podcast Archive

| # | Title | Released |
| --- | --- | --- |
| 93 | Dreams or Doubts:The Journey to Clarity through Wristbands, Popcorn & Australia w/Peter Dutton | 09/28/2018 |
| 92 | You Are Worthy of Wealth: My Journey to 8 Rental Properties and Beyond w/Kendra Barnes | 09/21/2018 |
| 91 | Find the Solution:The Journey from Nike Signed Dancer to Animation Company CEO w/Kymberlee Jay | 09/13/2018 |
| 90 | From Homeless, 520lb College Dropout to Private Equity Attorney w/ Seth C. Pearson | 09/06/2018 |
| 89 | Be Willing to Change: Chasing Your Dreams as a Single Mother w/Kim Palmer | 08/30/2018 |
| 88 | Stop Negotiating Your Happiness:Thriving in Motherhood, Business & Purpose w/ Vernisha Crawford | 08/23/2018 |
| 87 | You're The One You've Been Waiting On: Protecting Black Genius w/Dr.William Jackson | 08/16/2018 |
| 86 | Producing Big Ideas with Limited Resources w/Myca Williamson | 08/09/2018 |
| 85 | Maximize Your Struggle: Taking the Driver Seat of Your Life w/ Linnita Hosten | 08/02/2018 |
| 84 | Growing Where You're Planted w/Julian Love, CFO of St Hope Academy | 07/26/2018 |
| 83 | Give Yourself a Chance: The Journey From English Teacher to Dentistry w/ Craig McKie | 07/19/2018 |
| 82 | First Day Out: The Shame of Failure & The Power of Community w/ Greg E. Hill | 07/12/2018 |
| 81 | (Special Conference Edition): My First Year as a Professional Speaker w/ Darryl Bellamy Jr. | 11/30/2017 |
| 80 | How One Senior Turned Rejection into 11 Job Offers & $40,000 Hackathon Prize w/ Brandon Long | 11/20/2017 |
| 79 | Skill over Talent: From $9.90 & No Tech Background to a 6 Figure Web Business w/Daniel Griggs | 11/13/2017 |
| 78 | Defining Your Own Success w/ Mandy Bowman of The Official Black Wall Street | 11/04/2017 |
| 77 | Accepting Your Reality: Self Advocating for your Career, Relationships, and Yourself w/Victoria Jenn Rodriguez | 10/19/2017 |
| 76 | (Special CLT Live Edition): Building Healthy Business, Fitness & Life Habits w/Desmond Scott | 10/13/2017 |
| 75 | (Special Live New York Edition): Get What You Deserve w/Abu Fofanah & Ariel Lopez | 10/09/2017 |
| 74 | Value over Visibility:The Unapologetic Truth about Brand Building w/Andrew Nguyen | 09/22/2017 |
| 73 | From West Point to Wall Street: Building Financial Wellness the Right Way w/Benjamin Pitts | 09/14/2017 |
| 72 | Funding Startups, Breaking Stereotypes & Reclaiming Your Seat at the Table w/Anastacia Gordon | 09/07/2017 |
| 71 | Late Registration: College Dropout turned Tech GirlBoss w/Ariel Lopez, Founder of 2020 Shift | 08/31/2017 |
| 70 | One Connection Away: The Road from Compton to Wall Street to C-Suite w/Darryn Lee | 08/24/2017 |
| 69 | Own Your Difference:From 15k First Month As Voice Actor to Bouncer to Freedom w/Kareem Taylor | 07/27/2017 |
| 67 | From Rural Town to Duke to NASA to BBQ Pitmaster w/Rocket Scientist, Dr.Howard Conyers | 06/17/2017 |
| 66 | Your Dreams Are Urgent: Creating an Authentic Brand that Motivates w/Shinjini Das | 06/16/2017 |
| 65 | The Power of Purpose Mixed with Passion & a Princeton Degree w/ Rana Campbell | 06/08/2017 |
| 64 | Elevated Politics: Owning Your Responsibility to Greatness w/Lobbyist, Lauren Bealore | 06/01/2017 |
| 63 | A Single Fathers Journey to Change Through Books & Anime w/ Louie McClain of Melanin Origins | 05/25/2017 |
| 62 | Black America, Where to Now? w/ Marcus Bass | 05/18/2017 |
| 61 | Conversations We Never Have? Creating Events That Matter w/Gabrielle Jones of Rielle Events | 05/11/2017 |
| 60 | Healthy Looks Different on Everybody: Building Brands, Health & Confidence w/Chelsea Williams | 05/04/2017 |
| 59 | How to Stay Motivated Regardless of The Results w/Justin Shaifer of Fascinate Sci | 04/27/2017 |
| 58 | Don't Limit Your Expectations: From NCCU to Harvard Medical School w/Dr.Stephen Allsop | 04/20/2017 |
| 57 | Are You Just Existing? 7 years of Risk, Film & Discovery w/ Cinematographer, Dominic Jones | 04/13/2017 |
| 56 | Say Less: Finding your Niche in a Crowded Place w/Liane Membis, Founder of Bauce Mag | 03/09/2017 |
| 55 | The Art of Failing Forward w/ Rebecca Jones, Founder of Miss Munchin's Cupcakes | 03/02/2017 |
| 54 | It's All About Leverage: A Marketing Masterclass w/Jeff Belizaire of The Runaway Jamaica | 02/02/2017 |
| 53 | From Brooklyn to Forbes 30 under 30 w/Evin Robinson & Jessica Santana, Founders of NYOT | 01/26/2017 |
| 52 | Secure Your Bag: From NY to Investment Banking to Harvard Business School w/Triston Francis | 01/19/2017 |
| 51 | Secret Vs Private: The Difficult Conversations We Don't Have w/Kimberly Knight | 01/12/2017 |
| 50 | The Miseducation Of a Traveler:The Secret to Growth, Travel & Opportunity w/One Young Traveler | 12/15/2016 |
| 49 | What's Next After the Protest? w/Activist Jonathan Butler (Re-Release) | 12/08/2016 |
| 48 | Finding Success Without Leaving Your Own Identity behind w/Jon Jackson, Co-Founder of Blavity | 12/01/2016 |
| 47 | Your Dream Isn't for Everybody: Finding Balance & Focus w/ Actor, Keon Mitchell | 11/24/2016 |
| 46 | Accepting the Sacrifice: Building the ESPN of Comedy w/Jon Williams of ComedyHype.com | 11/17/2016 |
| 45 | Tell a Story Nobody Else Can Tell:Creating Side Hustles & Owning Your Truth w/Nicaila Matthews | 10/27/2016 |
| 44 | Manifesting Your Destiny Through Breakdowns & Breakthroughs w/Kimberly Brown | 10/20/2016 |
| 43 | It's Just a Title:Sit-down w/Dr.Dallas Dance,Superintendent of Baltimore County Public Schools | 10/13/2016 |
| 42 | From Chicago to MIT to Palo Alto: Building Relationships, Skill & Creativity w/Quinnton Harris | 09/15/2016 |
| 41 | Grant Your Own Wishes: Finding Financial Peace through Mindfullness w/Dr.Roshawnna Novellus | 09/08/2016 |
| 40 | Degrees Don't Define You:College Dropout turned Master Brand Builder & Monetizer w/Maya Elious | 09/02/2016 |
| 39 | Apps over Consulting: From Princeton to Wharton to Turning Down 7 Figure Offers w/Muoyo Okome | 08/26/2016 |
| 38 | Surviving The First Year in Business w/Timothy Noble & Britney Epps, Founders of Spark Designz | 08/19/2016 |
| 37 | Debt Free? How I earned over $500,000 in Scholarships w/ Ariel Andrews | 08/11/2016 |
| 36 | The Art of The Flourish: When Did Being Real Become so Difficult? w/ Carson Byrd | 08/04/2016 |
| 35 | A Freelance Graphic Designer's Journey to CEO w/ Octavia Gilmore, Founder of Creative Juice | 07/29/2016 |
| 34 | From a 1.7 HS GPA to becoming the one of the youngest HBCU Presidents w/Dr. Dwaun Warmack | 07/21/2016 |
| 33 | How to Make Your Story Your Profession w/ Keynote Speaker & Author, Darryl Bellamy | 07/14/2016 |
| 32 | Breaking Into PR: No Blueprint Needed w/ PR Boss Candice Nicole | 07/06/2016 |
| 31 | 1 Dream, No Funds to O Magazine & Whole Food's w/Rahama Wright,CEO of Shea Yeleen | 06/23/2016 |
| 30 | The Balancing Act: Education vs. Ambition w/ PHD Student Joey Daniel's | 06/22/2016 |
| 29 | When should I Quit? Mastering the Pivot w/Matthew Green of the District Running Collective | 06/09/2016 |
| 28 | Why Now is Always the Perfect Time: An Entrepreneur's Journey w/ Finance Coach Dominique Broadway | 06/03/2016 |
| 27 | Fighting Injustice w/ Apparel: Social Entreprenuer 101 w/Randi Gloss, Founder of GLOSSRAGS | 05/27/2016 |
| 26 | Why I Left Wall Street to Launch a Startup w/ Isa Watson, Founder of Envested | 05/19/2016 |
| 25 | From First Generation Student to PHD: Re-evaluating Higher Education w/Dr. Tiffany Jones | 05/12/2016 |
| 24 | A Single Mothers journey from Laid off to Photography Movement w/ Ruby Melton | 05/05/2016 |
| 23 | From Poverty to Purpose: Straight Talk w/ the "Turnaround Principal" Gemar Mills | 04/28/2016 |
| 22 | From Breakup to Breakthrough: A Sitdown w/ Ngozi Opara, Founder of Heat Free Hair | 04/21/2016 |
| 21 | From an Arrogant, Homeless, College Dropout to Author, Speaker, Culture Change Agent w/ Host Greg E. Hill | 03/24/2016 |
| 20 | I Hired Myself : How I Left my Six-Figure Job to Travel The World w/ Rachel Hill | 03/18/2016 |
| 19 | "Dealing with Rejection" 100 No's & Daily 12 Hour Practices w/ World Touring Musician Michael Johnson | 03/10/2016 |
| 18 | From War-Torn Liberia to Fulbright Awardee and NASA Engineer w/ PHD Student Emmanuel Johnson | 03/03/2016 |
| 17 | Giving Yourself The Opportunity to Fail: How to Change your Financial Future w/ Finance Coach Rob Boyd | 02/25/2016 |
| 16 | What Teaching Special Ed Taught Me: From Teach For America to NYU Law School w/ Mitchell Brown | 02/18/2016 |
| 15 | Got a Degree, Now What? The Post Graduation Struggle Defined w/ Photographer Ariel Perry | 02/11/2016 |
| 14 | Unemployed with $50 and a Dream to Forbes 30 under 30 w/ Travel Noire Founder Zim Ugochukwu | 02/04/2016 |
| 13 | "Defining What Success Means To You" w/ North Carolina A&T SGA President Austin Ogletree | 01/28/2016 |
| 12 | How to Launch & Fund a Non-Profit w/ Healthy Girl's Save The World Founder Camille McGirt | 01/21/2016 |
| 11 | How to Start A Blog & Make Money with Your Passion w/ Digital Media Strategist Chasity Cooper | 01/14/2016 |
| 10 | Overcoming Unexpected Setbacks with Bodybuilder, Performance Trainer, and Hairstylist Lauren Smith | 01/08/2016 |
| 9 | Navigating Adult Life After College with EducateDancer CEO Tisha Jaye | 12/31/2015 |
| 8 | Funding Your Passion with Fashion Designer James Murchison | 12/23/2015 |
| 7 | How to Succeed in Social Entreprenuership and Paid Public Speaking with EJ Carrion | 12/17/2015 |
| 6 | What's Next AFTER the Protest with Mizzou Hunger Strike activist Jonathan Butler | 12/15/2015 |
| 5 | "Work While You Work": From Target to MTV Wild N Out with Comedian Darren Brand | 12/10/2015 |
| 4 | From USA Today to Growing a Media Empire with Ashley Williams | 12/03/2015 |
| 3 | Building a Social Movement around HBCU's with Travis Jackson | 11/25/2015 |
| 2 | From North Carolina A&T to Harvard to Educational Change with Emilee Christopher | 11/25/2015 |
| 1 | How to Thrive After Leaving your Dream Job at Google with Wayne Kimball Jr | 11/25/2015 |
| | What To Expect From The Minority Trailblazer Podcast | 11/25/2015 |